Our Ibbenbüren location collaborated with our sales partner AzetylenWerke Schulz to provide HWK Aurich (Aurich Chamber of Craft) with 32 new EWM welding machines in November. The HWK is now home to our Titan XQ AC, Titan XQ compact and decompact models as well as Tetrix, Wega and Pico Puls welding machines. And it's not just our welding machines HWK Aurich has added to its arsenal, but also our ewm Xnet welding quality management software including gateways and the integration of the step switch controlled Wega into the Xnet system.
There will also be training courses for the individual welding machines including additional instruction.
We wish HWK Aurich every success with our welding machines and look forward to further collaboration in future.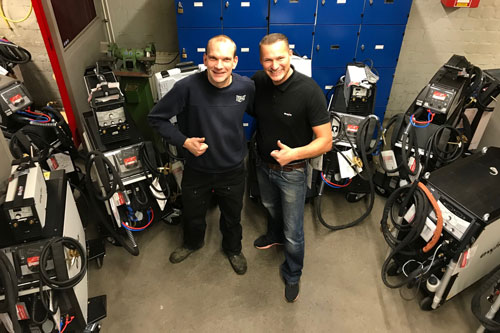 from left to right:
Matthias Siefken, HWK Aurich Welding Technology Specialist
Johann Martin, EWM Ibbenbüren Site Manager