---
---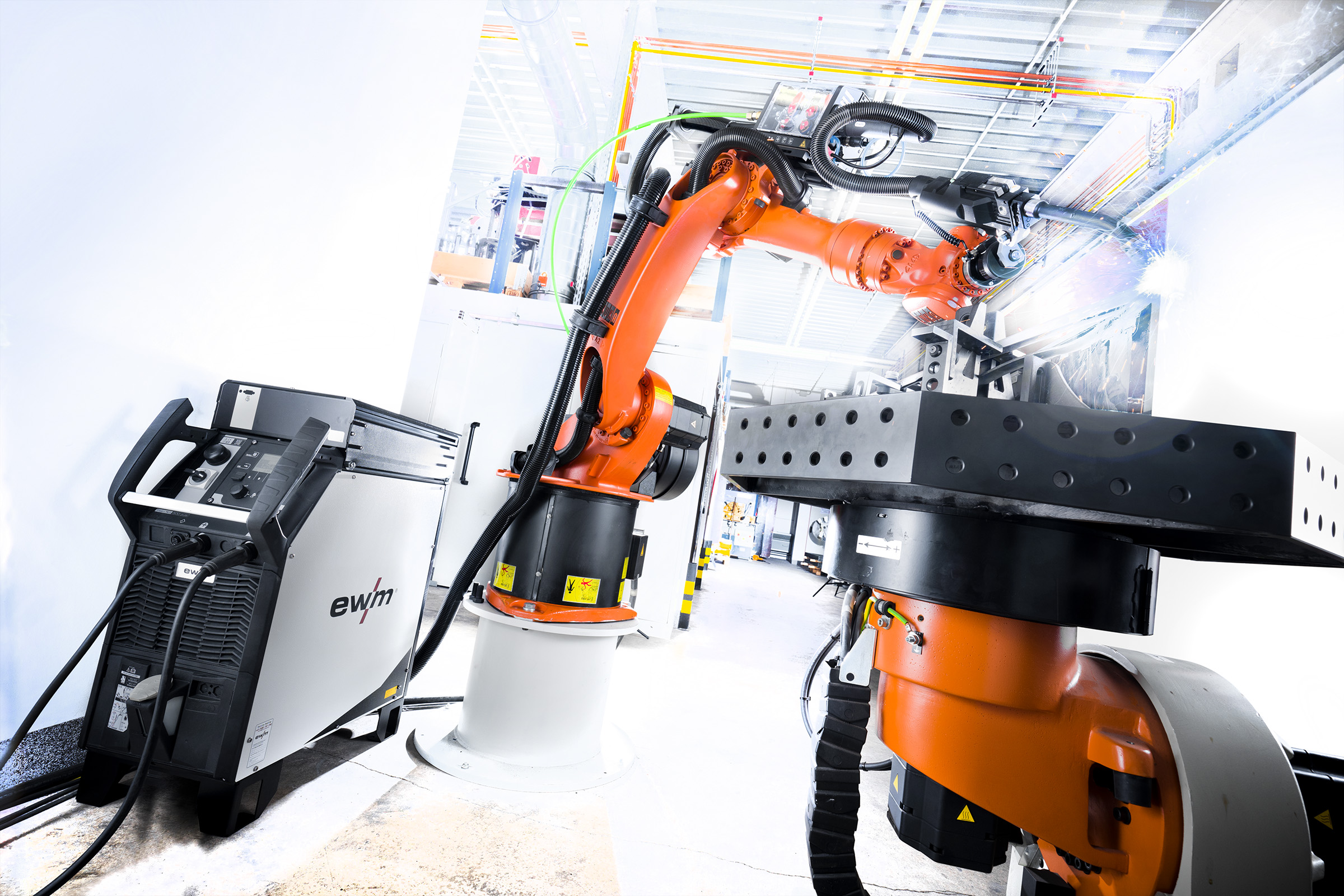 ---
ewm Xnet equips all welding companies for the future
Digital welding data management in robot-assisted production

Complete documentation and quality assurance is becoming more and more important in robotic welding. With ewm Xnet, the digital Welding 4.0 quality management system, EWM AG is offering its trade and industry customers an extensive, versatile and easy-to-operate solution. It even recognises changes to the parameters using real-time welding data recording and analysis, signalling these to you and helping you to prevent errors. And now, both EWM power sources and welding machines from any manufacturer can be integrated into the network, making your company's entire welding production safe and transparent.
Welding technology production is under enormous pressure and this pressure seems to be constantly growing due to the ever-increasing demand for complete documentation. In the past five years, expenditure for such has increased almost eightfold in many sectors. That's why production-related quality assurance is becoming more and more important. Not only does it ensure only high-quality products, it also plays an important role in product liability.
This is exactly where ewm Xnet has been making the lives of EWM customers easier for years. The welding quality management system supports, documents and analyses a component's entire production process, from work preparation to final costing, all completely paperless. ewm Xnet records all the welding data in real time, manages it and communicates the consumption values. The innovative software provides support in component management, creating welding sequence plans and allocating welding procedure specifications. You can also assign access permissions individually and keep track of each welder's test certificates.
Preparation and controlling in automation
While the skills and technical know-how of the user have a huge impact on quality in manual welding, preparation and subsequent controlling play a crucial role in automation. To be able to compile smooth documentation, the following questions must be answered:
Which order does it involve?
Which components are needed for an assembly?
Which WPS/WPQR is used as a basis?
Which parameters have been used for welding (current, voltage, wire feed speed, gas flow rate)?
To which order will all the information be assigned?
The welding parameters are set using a higher-level control. It must then be ensured that these are adhered to. ewm Xnet follows the parameters throughout the entire welding process and reports in real time if any inconsistencies occur. The welding process can then be ended without damaging the product and a signal will be triggered, e.g. a light or a sound.
Order numbers, assemblies, batches, serial numbers etc. can be recorded when entered using an industry scanner and assigned to the welding process. The welding management system also provides data on consumption and efficiency. As ewm Xnet works in an open SQL database, various systems are able to read and write data for the purpose of digitalisation.
Integrate welding machines from any manufacturer in ewm Xnet
ewm Xnet gives you the ability to integrate both EWM power sources and welding machines from any manufacturer into the network, making the whole production transparent in line with Industry 4.0 requirements, even for companies that use various makes of machine in their welding production. ewm Xnet is web-based and compatible with all operating systems. Once the programme has been installed on the company's own server, it can be accessed by all machines linked to the server in a similar way to a website. Devices include fixed PCs, laptops, tablets and smartphones.
Companies that use ewm Xnet are able to meet product liability requirements and increase their quality. In addition to quality assurance, ewm Xnet also helps companies boost their productivity and reduce costs, e.g. thanks to notifications about maintenance dates and recording machine data. Using this data, ewm Xnet is able to highlight any irregularities in the wire feeding, for example, or signal that a consumable needs replacing. It doesn't matter if you're a small workshop or a large car manufacturer with manual, mechanised or automated production – ewm Xnet equips all welding companies for the future.
Date: 09 February 2020
Volume: 4,325 characters including spaces
Figures: 5
---
---