---
---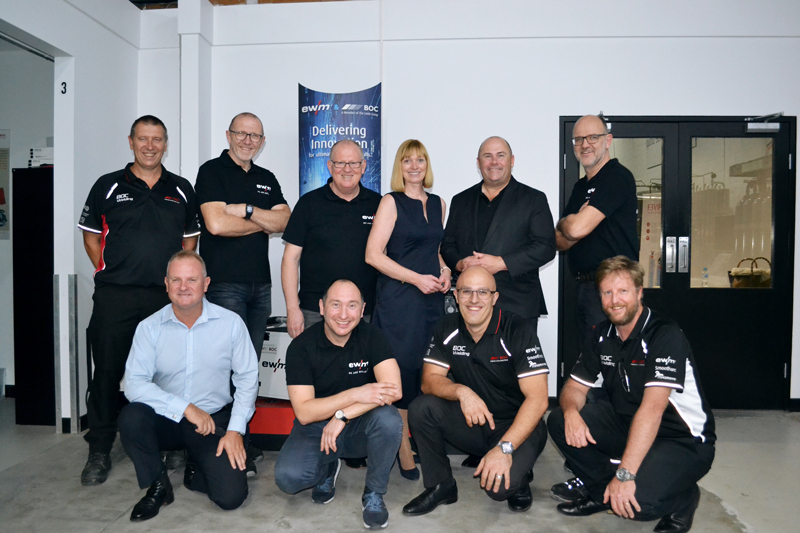 ---
Welding technology manufacturer collaborates with member of the Linde Group
EWM celebrates 10 years of partnership with BOC in Australia
Germany's largest manufacturer of arc welding technology and one of the world leaders in technology, EWM AG, celebrated its 10-year partnership with the leading Australia-based gas and industrial technology company, BOC, with an array of different events. As part of the festivities, the established partners also opened the new BOC Applications Centre together in Minto near Sydney.
EWM AG has been partners with Linde Group member BOC for 10 years now. "BOC's technical competence in the area of welding and EWM's passion for technology work perfectly together. So far, our trusting partnership with BOC has helped us get customers in Australia and New Zealand using almost 15,000 EWM welding machines, and we're looking forward to expanding on this partnership in the future," says Susanne Szczesny-Oßing, Chair of the EWM AG Supervisory Board, attending the events in Australia together with Robert Stöckl, Sales Executive Board.
Presenting the latest welding technology
The joint evening events in Minto and Rocklea were hosted under the motto "Discover the Welding 4.0 Revolution" and gave EWM, BOC and the Australian welding institution, Weld Australia, the chance to present their latest developments in welding technology to local companies and institute members. "Welding technology is seeing a revolutionary transformation with the emergence of more automation and data exchange between machines," explains Tony Newnham, Head of the SPW Group & BOC Welding Business. In his Welding 4.0 presentations, Head of Digital Welding Solutions at EWM Boyan Ivanov showed off EWM's concrete solutions for digitalising welding processes. As part of these presentations, Ivanov talked about ewm Xnet, the welding quality management system. This software supports, documents and analyses a component's entire production process, from work preparation to final costing, all completely paperless. ewm Xnet records all welding data from all connected welding machines – whether they are EWM machines or machines from any other manufacturer – in real time, manages it and displays the consumption values. The programme was topped off with welding demonstrations by Area Sales Manager Winfried Hahmann and EWM Applications Engineer Martin Weber, who showed off EWM's innovative welding processes as well as tigSpeed hot wire and cold wire welding in action.
Customer visits and employee training
The event series was completed with customer visits to celebrate EWM and BOC's 10-year anniversary. Hahmann and Weber took the opportunity to train BOC employees as part of various welding training sessions on the new MIG/MAG multi-process welding machine, the Titan XQ puls. The focus of these sessions was once again on the innovative coldArc, rootArc, acArc puls, forceArc and forceArc puls welding processes. BOC employees were particularly fascinated by acArc puls XQ, the new alternating current welding process in the new Titan XQ 400 AC puls, which joins even the thinnest of aluminium sheets cleanly and safely. As the exclusive EWM sales partner in Australia, this training was essential for BOC and its employees to prepare them for the sale of Titan-XQ welding technology in Australia.
Date:                        15 March 2020
Volume:                     3,316 characters including spaces
---
---