---
---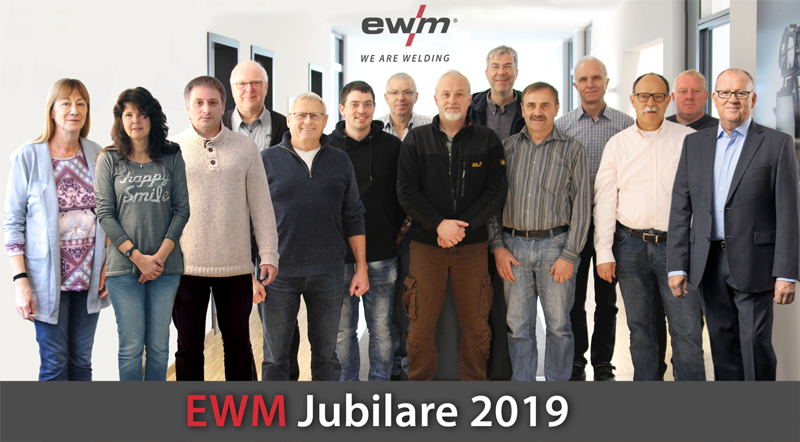 ---
Westerwald-based family company values loyalty and expertise
EWM honours long-serving employees
18 employees have been honoured for their exceptional service to EWM, some of them having completed three decades of employment at the company. For Germany's largest welding technology manufacturer, the key to remaining among the global leaders in arc welding technology is the long-term commitment of employees with their skills and expert knowledge. The family company headquartered in Mündersbach, Germany, thanked the stalwarts for the confidence they have shown in their employer.
These employees have shown expertise as well as loyalty to their job: Eckhard Henn is celebrating a very special anniversary, having been at EWM for 35 years. Meanwhile, Hagen Schröter, Heinrich Martens, Nikolai Bergen, Stefan Last and Herbert Sonntag have been part of the close-knit team for 30 years. Looking back on a quarter century of service are Heinz Lorenz, Melanie Lotz, Robert Stöckl, Viktor Wiens, Marco Heinemann, Werner Kowatzki, Marco Kuppler and Petra Böckling. And Adolf-Herrmann Schmitz is celebrating his 20-year anniversary, while René Conradi, Marius Pfeiffer and Dennis Thielen have all been employed at EWM for 10 years. "We are proud to have such loyal employees in our ranks and are very grateful that you have brought your expert knowledge and skills to the company for so many years," said Angelika Szczesny-Kluge, member of the EWM Executive Board in the HR department.
Work shaped by teamwork and expertise
EWM is one of the region's biggest employers, sometimes with entire generations of families working here. The technology market leader is also a knowledge centre in the field of arc welding technology. Employees benefit from this as well as the teamwork culture and state-of-the-art work environment at EWM. This is especially the case for the many trainees who choose to start their professional careers at the established company. EWM currently offers 14 commercial and technical apprenticeships as well as two dual study programmes. Career entrants can benefit from a varied and dynamic occupation as well as the expertise of their older colleagues. And perhaps in a few decades, they will be the ones helping the newcomers.
Date: 11 December 2019
Volume: 2,235 characters including spaces
Figures: 1
---
---