Disposing of equipment
Proper disposal!
The machine contains valuable raw materials, which should be recycled, and electronic components, which must be disposed of.
Do not dispose of in household waste!
Observe the local regulations regarding disposal!

Manufacture´s declaration to end user
According to European provisions (guideline 2012/19/EU of the European Parliament and the Council of Juli, 4th 2021), used electric and electronic equipment may no longer be placed in unsorted municipal waste. It must be collected separately. The symbol depicting a waste container on wheels indicates that the equipment must be collected separately. This machine is to be placed for disposal or recycling in the waste separation systems provided for this purpose.
According to German law (law governing the distribution, taking back and environmentally correct disposal of electric and electronic equipment (ElektroG) from 16.03.2005), used machines are to be placed in a collection system separate from unsorted municipal waste. The public waste management utilities (communities) have created collection points at which used equipment from private households can be disposed of free of charge.
Information about giving back used equipment or about collections can be obtained from the respective municipal administration office.
EWM participates in an approved waste disposal and recycling system and is registered in the Used Electrical Equipment Register (EAR) under number WEEE DE 57686922.
Please contact EWM regarding the options for returning your used electrical equipment: Tämä sähköpostiosoite on suojattu spamboteilta. Tarvitset JavaScript-tuen nähdäksesi sen.
In addition to this, returns are also possible throughout Europe via EWM sales partners.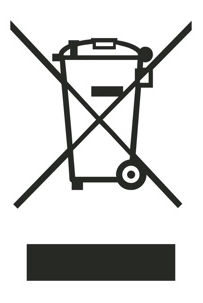 Meeting the requirements of RoHS
We, EWM AG in Mündersbach, Germany, hereby confirm that all products which we supply to you and that are subject to the RoHS directive comply with RoHS requirements (also see applicable EC directives on the Declaration of Conformity on your machine).

Packaging return
German packaging legislation states that EWM is obliged to take back product packaging and guarantee its recycling or disposal.
We work with an approved disposal system to meet these requirements. Packaging can be returned to any EWM sales partner after purchase. Please contact EWM directly in the case of machines purchased online.
Link List