---
---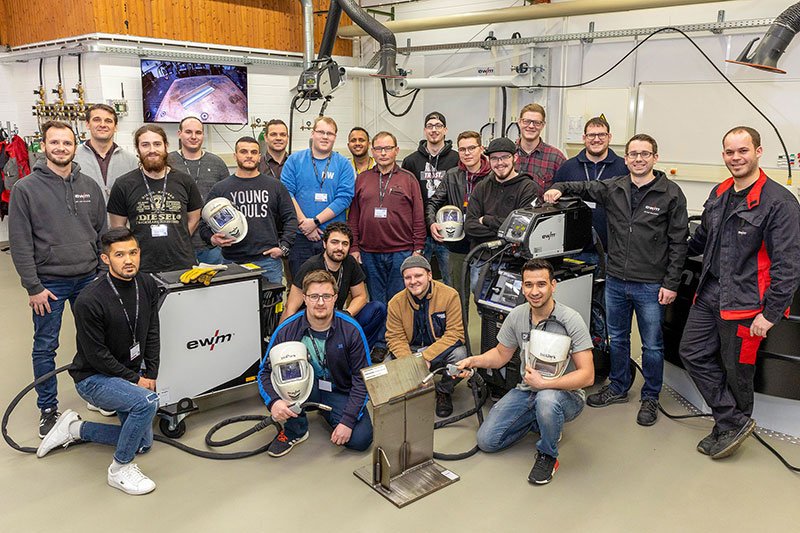 ---
Budding metalworkers from Gießen visit welding technology manufacturer
New welding technology tried out at EWM
The future metalworkers and construction mechanics of Class 12 MB X0 of the Theodor Litt vocational college in Gießen often work with step switch-controlled welding machines in their everyday lives. As part of their visit to welding technology manufacturer, EWM, in the Rhineland-Palatinate town of Mündersbach, however, vocational students were able to try out the latest welding technology. In doing so, the young budding metalworkers got an insight into the future, with so-called transformers soon becoming a thing of the past due to the European Union's upcoming Ecodesign Directive entering into effect from 1 January 2021.

Third-year apprentices in metalworking and construction mechanics work frequently with step switch-controlled welding machines as part of their training. As a break from the classroom, students of the Theodor Litt vocational college in Gießen took a trip to Mündersbach-based welding technology manufacturer, EWM. Here, at the headquarters of Germany's largest supplier of arc welding technology and one of the world's technology leaders, the third-year trainees got an insight into the theory and practice of modern welding with digital inverter technology.
The day up in the Westerwald mountains started with the theory side of things. The group of 16 from Theodor Litt vocational college with teacher Marco Schlapp and welding instructor Reiner Jung learned all about the latest developments, welding machines and arcs for manual and automated welding from EWM application engineer Rudolf Plett and EWM robotics expert Max Lautenbach. Theory out of the way, it was time for practice. Equipped with protective clothing, the budding metalworkers tried out different welding machines and welding processes on their own weld seams in the EWM training room. Students also got the chance to see robotic welding in action.
The innovative welding processes were particularly interesting for class teacher Marco Schlapp. As, due largely to financial reasons, the school works with step switch-controlled welding machines, Schlapp's goal was to introduce his students to the latest technology. Welding instructor Reiner Jung was impressed by the training on these machines which required students to set their own parameters such as voltage and current: "That's how I learned to weld. Everything else is a bonus."
Nevertheless, Benjamin Fischer, the responsible EWM field staff member for the Hessen region, will loan the school modern welding machines with inverter technology. This technology is, among other things, significantly more energy-efficient than transformer technology. Marco Schlapp is very excited to receive the machines from EWM which will allow students to gain practical experience with the latest technology while future-proofing the college: "The EU Ecodesign Directive will come into effect in January 2021, meaning step switch-controlled welding machines will soon be phased out," says Benjamin Fischer.
Date:                       14 February 2020
Volume:                     2,929 characters including spaces
Figures:              4
---
---